SEASON 2
Child's Play: A Series of One Act Plays
By Hayley Lawson-Smith

Directed by: Hayley Lawson-Smith, Michele Haywood & Luisa Romeo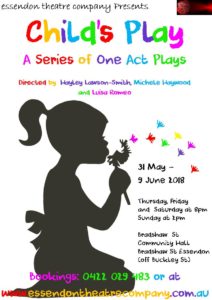 Season:
31 May – 3 June & 7 – 9 June 2018
Thursday, Friday and Saturday Performances at 8pm
Sunday Matinee at 2pm
SYNOPSIS:
 Play 1: A Thousand Words By Hayley Lawson-Smith
 Directed by Hayley Lawson-Smith
Synopsis: Mummy and Daddy are featured items on the refrigerator, and proud of it. But behind the happy facade, real life must be acknowledged.
Play 2 Youth Play: Warriors By Hayley Lawson-Smith
 Directed by Michele Haywood & Luisa Romeo
Synopsis: Not every hero gets a song or the cheers of the crowd—or even acknowledgement. In Zordana's land, a hero fights bravely in the open field, destroying monsters and dark magic. In Amy's world, her hero is the sister who takes care of her. For Maddie, her hero is her brother, who may tease her mercilessly but loves her dearly. As tragedy threatens to consume their separate worlds, only in coming together can they battle back the dark.
BOOKINGS: