SEASON 3
Baby with the Bathwater by Christopher Durang

Directed by: Drew Mason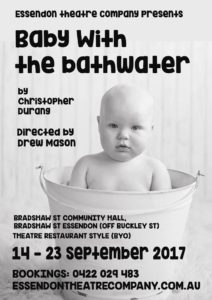 Season:
14 – 17 & 21 – 23 September 2017
Thursday, Friday and Saturday Performances at 8pm
Sunday Matinee at 2pm
SYNOPSIS:
When two young parents bring home their newborn child, it becomes quickly apparent that they have no knowledge of how to care for the baby. Determined not to look at the gender of the child, so as not to be impolite, they assume incorrectly that the baby is a girl. What follows is an erratic look at the family unit as the child is raised by incompetent (but loving) parents and a nanny who turns out to be the anti-Mary Poppins. Not to mention several years of therapy for the baby…all while trying to write an essay on Gulliver's Travels…and complete University before he turns thirty.
For anyone who has, was, or is a parent, this contemporary classic from Christopher Durang will have you both laughing and gasping as we lampoon modern parenting.
BOOKINGS: