SEASON 4
A Good Man
A Comedy by Frederick Stroppel

Directed by Rosalin Shafik-Eid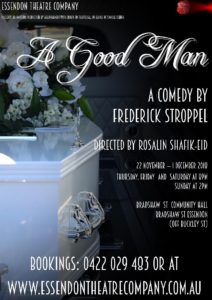 Season:
22 November – 28 November & 29 November – 1 December 2018
Thursday, Friday and Saturday Performances at 8pm
Sunday Matinee at 2pm
SYNOPSIS:
It's a hot July day at the Good Shepherd Funeral Parlor and Martin Lamb, the mortician, is presiding over the wake of the late Walter Porteus. His dream of a perfect wake is undermined by his son Jimmy, whose interests are more amatory than funereal, and by the conniving, contentious Porteus family members, who are already clashing over the will. To further inflame matters, the air conditioning breaks down and the wrong body turns up in the casket. Then a mysterious mourner appears and a valuable piece of jewelry disappears. When the air conditioning repairman pulls a gun and decides to hold them all hostage, things really start to get interesting in this hilarious black comedy.
BOOKINGS: