Playbill 2021
1. Psycho Beach Party
By Charles Busch
Directed by Dawn Hinrichsen and Christopher Hill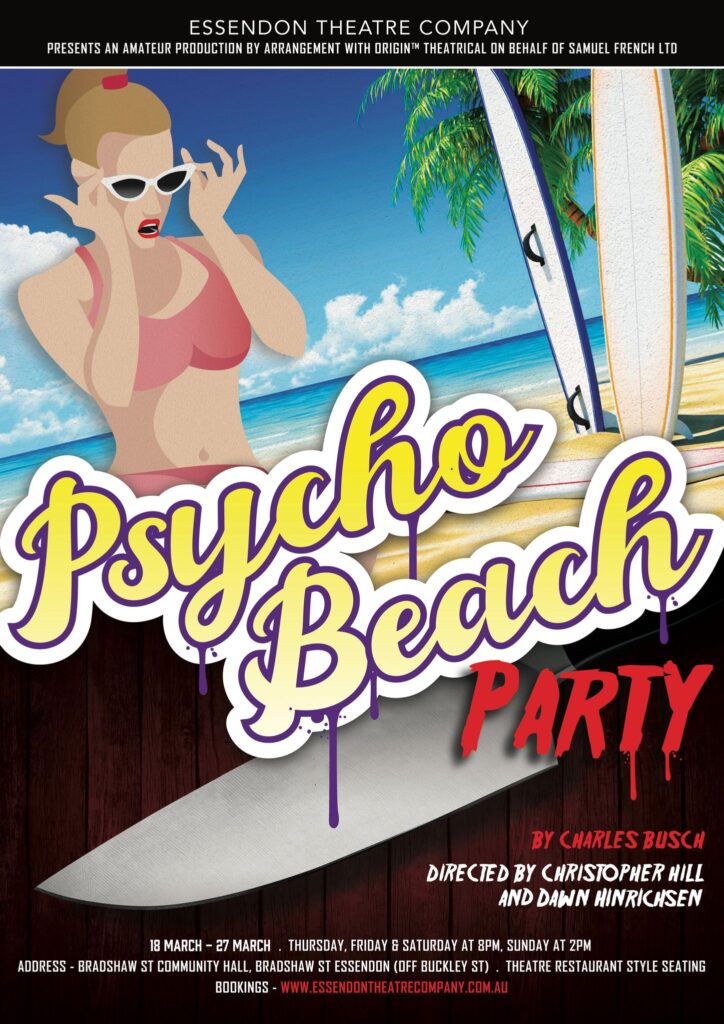 Surf's up, and murder's afoot, as "Psycho Beach Party" mashes up '50s psychodramas, '60s surfer films and '80s slasher horror flicks into a truly madcap comedy. Think Gidget meet's Mommie Dearest! It's 1962 and teenage tomboy Chicklet Forrest desperately wants to be a part of the surfer crowd on Malibu Beach. The one thing getting in her way, however, is her unfortunate tendency towards multiple personalities … and her most dangerous alter ego — voracious vixen Ann Bowman — has nothing less than world domination on her mind! Hilarity ensues as mischief, madness and the passionate pursuit of the perfect wave come crashing over the heads of the audience as beach blankets and Hitchcockian psychological suspense thrillers are tossed around in this rollicking, zany comedy. .
Season Dates: 18 – 27 March 2021
Thursday, Friday & Saturday performance at 8pm;
Sunday Matinee at 2pm
2. Death of a Salesman
By Arthur Miller
Directed by Michele Haywood and Nicola Taylor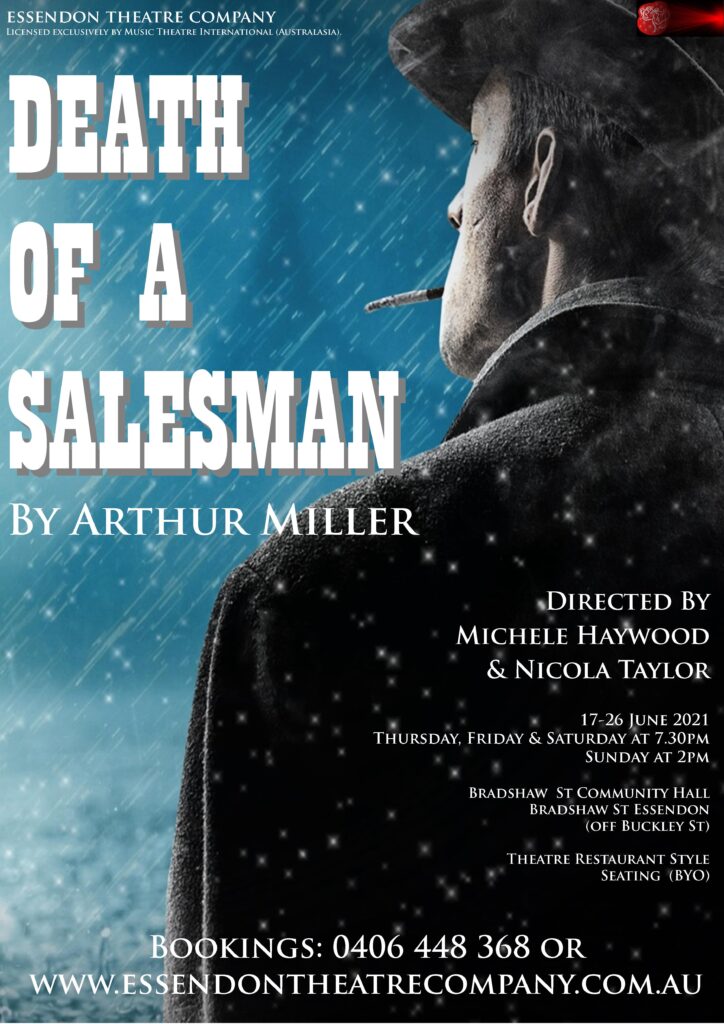 The story revolves around the last days of Willy Loman, a failing salesman, who cannot understand how he failed to win success and happiness. Through a series of tragic soul-searching revelations of the life he has lived with his wife, his sons, and his business associates, we discover how his quest for the "American Dream" kept him blind to the people who truly loved him. A thrilling work of deep and revealing beauty that remains one of the most profound classic dramas of the American theatre.
Season Dates:
Thursday 29 July 2021 – 7.30pm
Friday 30 July 2021 – 7.30pm
Saturday 31 July 2021 – 1pm (Matinee)
Saturday 31 July 2021 – 7.30pm
Thursday 5 August 2021 – 7.30pm
Friday 6 August 2021 – 7.30pm
Saturday 7 August 2021 – 7.30pm
3. Terra Nova – RESCHEDULED TO FUTURE DATE
By Ted Tally
Directed by David Collins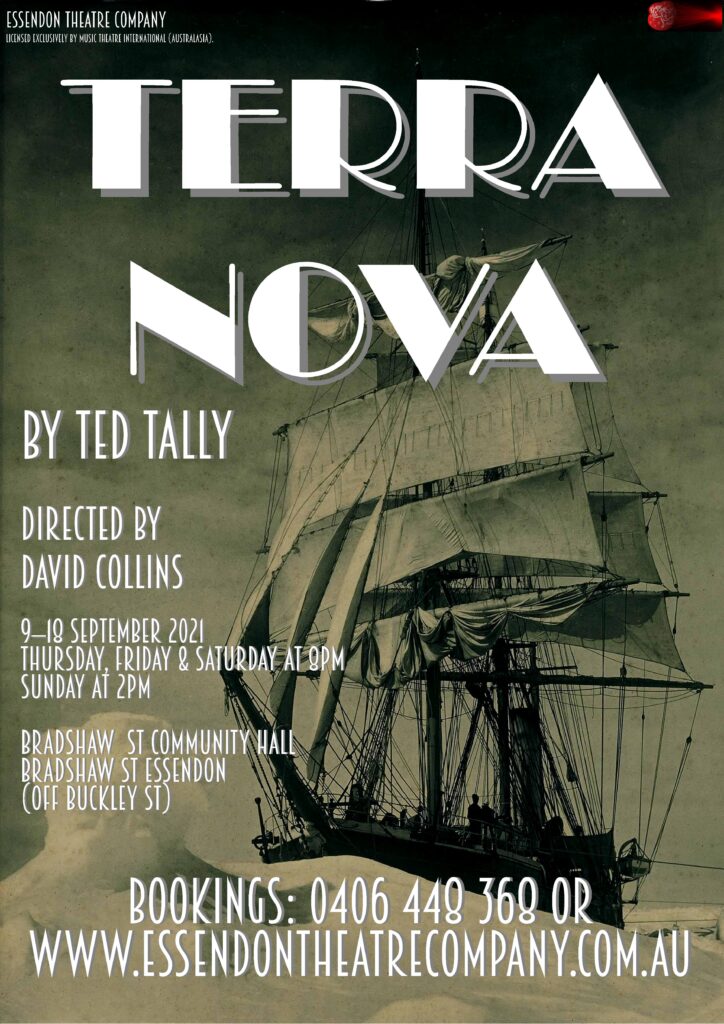 Drawn from the journals and letters found on the frozen body of Captain Scott, the action of the play blends scenes of the explorer and his men at various stages of their ordeal, with flashbacks of Scott and his young wife and with fateful glimpses of his Norwegian rival, Roald Amundsen, whose party beat him to the South Pole. Refusing the use of sled dogs as unsporting, Scott and his team struggle to drag their heavy gear across a frozen wasteland, only to find that Amundsen has preceded them to their goal. The play is also a study of British pride and upper-class resolve—Scott's aristocratic sense of destiny and command and his young bride's ability to understand her husband's compulsive drive while failing to accept his motivations. But it is in the tragic trip back, as the members of the expedition die one by one, that the play reaches its dramatic apogee, capturing with chilling intensity the awesome bravery of men who must accept the bitter knowledge that suffering and death will be the only reward for their heroism.
Season Dates: 9 – 18 September 2021
Thursday, Friday & Saturday performance at 8pm;
Sunday Matinee at 2pm
4. Don't Dress for Dinner
By Marc Camoletti, Adapted by Robin Hawdon
Directed by George Benca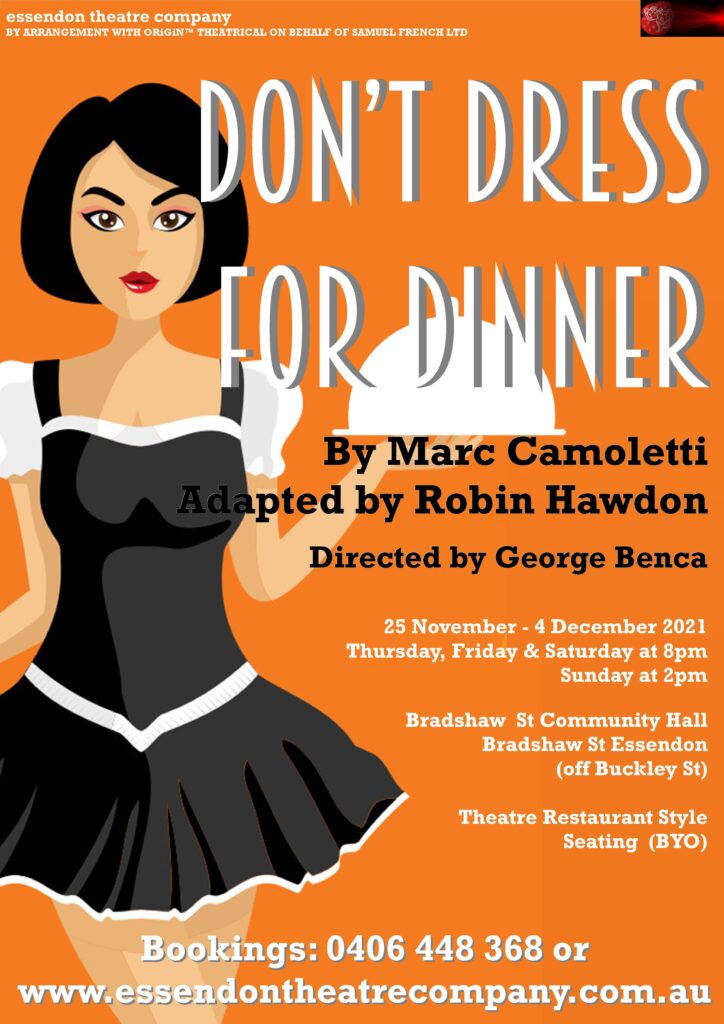 Bernard is planning a romantic weekend with his chic Parisian mistress in his charming converted French farmhouse, whilst his wife, Jacqueline, is away. He has arranged for a cordon bleu cook to prepare gourmet delights, and has invited his best friend, Robert, along too to provide the alibi. It's foolproof; what could possibly go wrong? Well…. suppose Robert turns up not realizing quite why he has been invited. Suppose Robert and Jacqueline are secret lovers, and consequently determined that Jacqueline will NOT leave for the weekend. Suppose the cook has to pretend to be the mistress and the mistress is unable to cook. Suppose everyone's alibi gets confused with everyone else's. An evening of hilarious confusion ensues as Bernard and Robert improvise at breakneck speed..
Season Dates: 25 November – 4 December 2021
Thursday, Friday & Saturday performance at 8pm;
Sunday Matinee at 2pm