Wanting to audition for a show at ETC? Auditions are open to everyone who is suitable for the designated roles. There is no fee to audition, but successful members who are cast in ETC productions must agree to pay the $20 annual membership fee which covers administration and insurance costs. This is payable within one month of rehearsals.
To find out specific requirements about what is expected in the audition check out the notices below, or contact the associated director.  If you would like to be placed on our email distribution list for upcoming auditions, please email us at essendontheatrecompany@gmail.com  ETC always welcome new faces and talent and look forward to seeing you at an upcoming audition!
2017 SEASON
PRODUCTION 2

The Pirate Princess

A Children's Pantomime by Mazz Ryan

Directed by Michele Haywood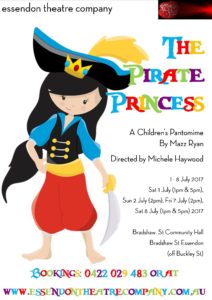 Synopsis
The Pirate Princess tells the tale of a young princess who would rather be a Pirate!
CHARACTERS
King Kanye
Queen Kim
Evaline age 13
Evaline age 23
Ferdy age 15
Ferdy age 26
Admiral Trumpet
Apex – Female 18 years or over)
Maccas – Female any age
Good pirates – Any age or gender
Admiral Trumpets soldiers – Any age of gender
Best swordsperson in the land – Female any age
AUDITIONS
Tuesday 4 April 2017 at 7.30pm and
Sunday 9 April 2017 at 1.30pm
REHEARSAL PERIOD
Rehearsals will be three times a week, Tuesday and Thursday at 7:30PM & Sundays at 2PM.
SEASON
Saturday 1 July – Saturday 8 July 2017
Sat 1 July (1pm & 5pm)
Sun 2 July (2pm)
Fri 7 July (2pm)
Sat 8 July (1pm & 5pm)
Please click the link below for more details