Wanting to audition for a show at ETC? Auditions are open to everyone who is suitable for the designated roles. There is no fee to audition, but successful members who are cast in ETC productions must agree to pay the $20 annual membership fee which covers administration and insurance costs. This is payable within one month of rehearsals.
To find out specific requirements about what is expected in the audition check out the notices below, or contact the associated director. If you would like to be placed on our email distribution list for upcoming auditions, please fill in the form below and click "Subscribe." ETC always welcome new faces and talent and look forward to seeing you at an upcoming audition!
Please bring along completed audition form below to your audition, along with a non-returnable photo or headshot.
2021 SEASON
PRODUCTION 2
Death of a Salesman
By Arthur Miller
Directed by Michele Haywood and Nicola Taylor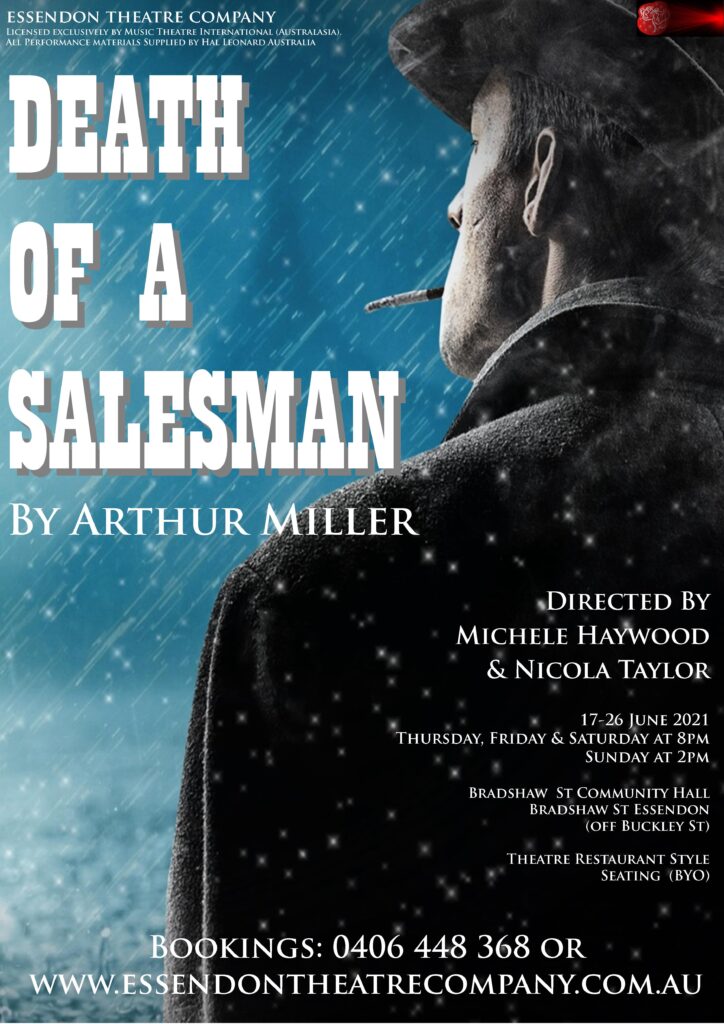 Audition Dates:
Wednesday 24 February 2021 from 6pm (via Zoom) Sunday 28 February 2021 from 3pm (via Zoom) Saturday 6 March 2021 from 11am (Callbacks)
Bookings essential for audition time via director Michele Haywood/Nicola Taylor on email michwood@bigpond.com /nicola_taylor4@yahoo.com.au
Auditions are by APPOINTMENT ONLY. Please apply to organise your audition time and for any further information. Please send a completed audition form with your audition enquiry email (can be found on the ETC Website at www.essendontheatrecompany.com.au)
YOU DO NOT NEED TO ATTACH A THEATRE CV OR PHOTO. We will take a screenshot during your Zoom audition in lieu of a photo being provided.
Please be ready on Zoom five minutes prior your scheduled audition time (10 minutes if you have never used Zoom before, to allow time for the application to be downloaded). You will be let into the Zoom meeting at the time of your audition.
For the audition you will need to prepare a short monologue (2 – 4 mins) from Death of a Salesman (DOAS) which you feel best represents the character you are auditioning for. Be prepared to explain why you feel this piece represents the character, as well as to answer some questions about the time and place in which the play is set (Brooklyn, late 1940s).
At the callback, you will also be asked to do a read with some of the other auditionees, based on pieces from the DOAS script that you will be notified of prior to the day.
Please Note:
Successful cast MUST BE available for rehearsal period as well as all production dates. Please check you are available for all performance dates before booking your audition time.
ETC is a community theatre company and, as such, no actors are paid.
Audition Venue:
Initial Auditions: via Zoom
Callbacks (subject to COVID-19 restrictions):
Bradshaw Street Community Hall
9-11 Bradshaw Street (off Buckley Street)
West Essendon VIC 3040
Google Maps: https://www.google.com.au/maps/place/Essendon+Theatre+Company/@-37.753079,144.893059,17z/data=!3m1!4b1!4m2!3m1!1s0x6ad65c132fe4d1e9:0xde935373e7f0cb3f
Characters summary:
Standard American accent required for all roles
There are roles for 8 men and 5 women:
Willy Loman: Male, early 50s to mid 60s. A traveling salesman who believes wholeheartedly in the American Dream of easy success and wealth, but he has never achieved it.
Biff Loman: Male, 34 years old (late 20s to late 30s). Flawed older son of Willy and Linda Loman. He was a popular jock in high school, but as an adult has failed to live up to his potential.
Linda Loman: Female, 50 to mid-60's. Loyal and loving wife of Willy. Occasionally, she seems to be taken in by Willy's hopes for future glory and success, but at other times, she seems far more realistic and less fragile than her husband.
Happy Loman: Male, 32 years old (mid 20s to mid 30s). Happy has lived in Biff's shadow all of his life, he has a job and is more successful than his brother.
Charley: Male, 50 to mid-60's. Wise-cracking, kind neighbor of Willy. His son Bernard is the same age as Willy's boys.
Bernard: Male, late 20s to late 30s.Charley's son. He is a nerd and has always worshiped Biff. Is very successful.
Uncle Ben: Male, between 20 and 60. Willy's older brother. He appears to Willy in his hallucinations.
The Woman: Female, 30-45. "Miss Francis," as Willy calls her. Willy's one-time mistress.
Howard: Male, 35-45. Willy's boss. Sees Willy as a liability to the company.
Jenny: Female, 25-45. Charley's secretary.
Stanley: Male, 30-45. Waiter and friend of Happy's.
Miss Forsythe: Female, 20-30. A girl Happy picks up in a bar.
Letta: Female, 20-30. Friend to Miss Forsythe.
Contact:
All enquiries or to book an audition, contact directors on email (as above) or mobile to Michele (0413692283) or Nicola (0418354703).
Synopsis:
The story revolves around the last days of Willy Loman, a failing salesman, who cannot understand how he failed to win success and happiness. Through a series of tragic soul-searching revelations of the life he has lived with his wife, his sons, and his business associates, we discover how his quest for the "American Dream" kept him blind to the people who truly loved him. A thrilling work of deep and revealing beauty that remains one of the most profound classic dramas of the American theatre.
Rehearsal Period:
Rehearsals will be three times a week, Tuesday and Thursday evenings & Sundays at director's discretion.
Performances Dates:
17 – 20 June and 24 – 26 June 2021
Thursday, Friday and Saturday Performances at 8pm
Sunday Matinee at 2pm
Please Note:
Successful cast members MUST BE available for rehearsal period as well as all production dates. Please check you are available for all performance dates before booking your audition time.
ETC is a community theatre company and, as such, no cast or crew are paid.