Wanting to audition for a show at ETC? Auditions are open to everyone who is suitable for the designated roles. There is no fee to audition, but successful members who are cast in ETC productions must agree to pay the $20 annual membership fee which covers administration and insurance costs. This is payable within one month of rehearsals.
To find out specific requirements about what is expected in the audition check out the notices below, or contact the associated director.  If you would like to be placed on our email distribution list for upcoming auditions, please email us at essendontheatrecompany@gmail.com  ETC always welcome new faces and talent and look forward to seeing you at an upcoming audition!
Please bring along completed audition form below to your audition, along with a non-returnable photo or headshot. 
2018 SEASON
PRODUCTION 4



A Good Man by Frederick Stroppel

Directed by Rosalin Shafik-Eid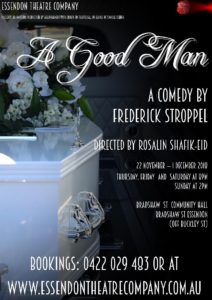 Audition Dates:
Friday 10 August 2018 at 7pm
Sunday 12 August 2018 at 10.30am
Bookings essential for audition time via Director Rosalin Shafik-Eid via email auditionforetc@gmail.com
Audition Venue:
Bradshaw Street Community Hall
Bradshaw Street (off Buckley Street)
West Essendon  VIC  3040
Melways 28B3
Google Maps: https://www.google.com.au/maps/place/Essendon+Theatre+Company/@-37.753079,144.893059,17z/data=!3m1!4b1!4m2!3m1!1s0x6ad65c132fe4d1e9:0xde935373e7f0cb3f
Characters summary: 
5M (20s – 60s), 3 F(20s – 40s)
 Characters:
Standard American Accents required; Ages are an indication only.
Martin Lamb – The Funeral Director, dedicated to his work – Male, late 40s – 60s
Jimmy Lamb – Apprentice to his father, unsure if the funeral industry is for him – Male, 20 – 25
Sharon Muldoon – Daughter to the deceased, divorcee, carer to her late father – Female, 30s – 40s
Douglas Porteus – Elder son to the deceased, Condom Salesman – Male, 30s – 40s
Gloria Porteus – Married to Douglas, attractive, flirtatious – Female, 30s – 40s
Andrew Porteus – Younger son of the deceased, black sheep of the family but loveable – Male, 30 – 35
Bobby Gelardi – Air conditioning and refrigeration specialist – Male, 25 – 60
Norma Czerniawski – A visitor, went to school with Sharon – Female, 30s – 40s
Yolanda Kamola – A young lady with clear complexion, Jimmy's love interest – Female, 20 – 25 years
Contact:
All enquires or to book an audition contact Director Rosalin Shafik-Eid via email at auditionforetc@gmail.com
Please apply to organise your audition time and for any further information.
Synopsis:
It's a hot July day at the Good Shepherd Funeral Parlor and Martin Lamb, the mortician, is presiding over the wake of the late Walter Porteus. His dream of a perfect wake is undermined by his son Jimmy, whose interests are more amatory than funereal, and by the conniving, contentious Porteus family members, who are already clashing over the will. To further inflame matters, the air conditioning breaks down and the wrong body turns up in the casket. Then a mysterious mourner appears and a valuable piece of jewelry disappears. When the air conditioning repairman pulls a gun and decides to hold them all hostage, things really start to get interesting in this hilarious black comedy.
Rehearsal Period:
Rehearsals will be three times a week, Tuesday and Thursday at 7pm & Sundays at 1pm.
Performances Dates:
22 November – 25 November & 29 November – 1 December 2018
Thursday, Friday and Saturday Performances at 8pm
Sunday Matinee at 2pm
Successful cast MUST BE available for rehearsal period as well as all production dates.