Wanting to audition for a show at ETC? Auditions are open to everyone who is suitable for the designated roles. There is no fee to audition, but successful members who are cast in ETC productions must agree to pay the $20 annual membership fee which covers administration and insurance costs. This is payable within one month of rehearsals.
To find out specific requirements about what is expected in the audition check out the notices below, or contact the associated director.  If you would like to be placed on our email distribution list for upcoming auditions, please email us at essendontheatrecompany@gmail.com  ETC always welcome new faces and talent and look forward to seeing you at an upcoming audition!
2017 SEASON
PRODUCTION 3

Baby with the Bathwater

By Christopher Durang

Directed by Drew Mason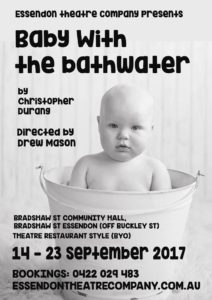 Synopsis
When two young parents bring home their newborn child, it becomes quickly apparent that they have no knowledge of how to care for the baby. Determined not to look at the gender of the child, so as not to be impolite, they assume incorrectly that the baby is a girl. What follows is an erratic look at the family unit as the child is raised by incompetent (but loving) parents and a nanny who turns out to be the anti-Mary Poppins. Not to mention several years of therapy for the baby…all while trying to write an essay on Gulliver's Travels…and complete University before he turns thirty.
For anyone who has, was, or is a parent, this contemporary classic from Christopher Durang will have you both laughing and gasping as we lampoon modern parenting.
CHARACTERS
Helen (Female) – character ages from 20-50
John (Male)- ages from 20-50 (will also be the voice of psychologist)
Daisy (Male)-ages from 17-30
Nanny/Kate/Principal (Female) – 30+
Cynthia/Angela/Miss Pringle/Susan (Female) -25+
Accents: possibly American. All characters, except Daisy, will be portrayed as caricatures, so the director is looking for exaggerated portrayals.
The play will essentially be staged as a cartoon, with Daisy as a live action character in a world that finds him completely out of his depth.
AUDITIONS
Sunday 25 June 2017 at 6p.m.
Thursday 29 June 2017 at 7.30pm
REHEARSAL PERIOD
Rehearsals will be three times a week, Tuesday and Thursday at 7:30PM & Sundays at director's discretion.
SEASON
14 – 17 & 21 – 23 September 2017
Thursday, Friday and Saturday Performances at 8pm
Sunday Matinee at 2pm
Please click the link below for more details