Wanting to audition for a show at ETC? Auditions are open to everyone who is suitable for the designated roles. There is no fee to audition, but successful members who are cast in ETC productions must agree to pay the $20 annual membership fee which covers administration and insurance costs. This is payable within one month of rehearsals.
To find out specific requirements about what is expected in the audition check out the notices below, or contact the associated director.  If you would like to be placed on our email distribution list for upcoming auditions, please email us at essendontheatrecompany@gmail.com  ETC always welcome new faces and talent and look forward to seeing you at an upcoming audition!
2017 SEASON
PRODUCTION 4

Unnecessary Farce

By Paul Slade Smith

Directed by George Benca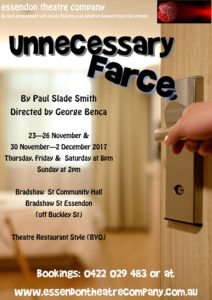 Synopsis
In a cheap motel room, an embezzling mayor is supposed to meet with his female accountant, while in the room next-door, two undercover cops wait to catch the meeting on videotape. But there's some confusion as to who's in which room, who's being videotaped, who's taken the money, who's hired a hit man, and why the accountant keeps taking off her clothes.
CHARACTERS
American accents required except for Todd who requires a Scottish accent
Eric Sheridan: Male, 30s. A bookish, even-keeled police officer who's thrown into some difficult situations–while not wearing any pants.
Billie Dwyer: Female, 20s/30s. A police officer. Eric's partner. Although she seems to lack every skill needed for police work, she is enthusiastic and eager to succeed.
Karen Brown: Female, 30s. An accountant who usually has a very professional demeanor, but seems unable to keep herself in control today.
Mayor Meekly: Male, 50s to 70s. A sweet, gentle fellow, who seems very Innocent (with a capital I)
Agent Frank: Male, 20s to 50s. Town Hall head of Security. Although he can seem confident and even gruff, in moments of crisis he is easily reduced to a very frightened man
Todd: Male, 20s to 50s. Speaks with a pronounced Scottish accent. A professional hit man who's accent gets thicker the angrier he gets, until he's completely indecipherable.
Mary Meekly: Female, 50s to 70s. the Mayor's wife. Small statured, she seems very sweet natured, and a good match for her husband the mayor.
AUDITIONS
Tuesday 19 September 2017 at 7.30p.m.
Sunday 24 September 2017 at 2pm
REHEARSAL PERIOD
Rehearsals will be three times a week, Tuesday and Thursday at 7:30PM & Sundays at director's discretion.
SEASON
23 – 26 November & 30 November – 2 December 2017
Thursday, Friday and Saturday Performances at 8pm
Sunday Matinee at 2pm
Please click the link below for more details