Wanting to audition for a show at ETC? Auditions are open to everyone who is suitable for the designated roles. There is no fee to audition, but successful members who are cast in ETC productions must agree to pay the $20 annual membership fee which covers administration and insurance costs. This is payable within one month of rehearsals.
To find out specific requirements about what is expected in the audition check out the notices below, or contact the associated director.  If you would like to be placed on our email distribution list for upcoming auditions, please fill in the form below and click "Subscribe."  ETC always welcome new faces and talent and look forward to seeing you at an upcoming audition!
Please bring along completed audition form below to your audition, along with a non-returnable photo or headshot. 
2019 SEASON
PRODUCTION 1



Suite Surrender by Michael McKeever

Directed by George Benca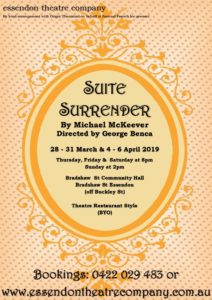 Audition Dates:
Tuesday 15 January 2019 at 7.30pm
Thursday 17 January 2019 at 7.30pm
Bookings essential for audition time via Director George Benca via email georgebenca@gmail.com
Audition Venue:
Bradshaw Street Community Hall
Bradshaw Street (off Buckley Street)
West Essendon  VIC  3040
Melways 28B3
Google Maps: https://www.google.com.au/maps/place/Essendon+Theatre+Company/@-37.753079,144.893059,17z/data=!3m1!4b1!4m2!3m1!1s0x6ad65c132fe4d1e9:0xde935373e7f0cb3f
Characters summary: 
4M, 5 F
 Characters:
Standard American Accents required; Ages are an indication only.
BERNARD S. DUNLAP, General Manager of the Palm Beach Royale Hotel & Spa – Male 40-65
CLAUDIA MCFADDEN, America's Beloved Matron of Song – Female 30-45
ATHENA SINCLAIR, a Great Star of Stage and Screen – Female 30-45
MURPHY STEVENS, Athena's personal secretary – Female 25-35
MR PIPPET, Claudia's persona! secretary – Male 30-45
DORA DEL RIO, a Gossip Columnist – Female 30-40
MRS. EVERETT P. OSGOOD, a Society Matron & President of the Palm Beach Ladies for Unity. – Female 50-65
FRANCIS, a bellhop – Male 30-45
OTIS, a bellhop – Male 30-45
Contact:
All enquires or to book an audition contact Director George Benca via email at georgebenca@gmail.com
Please apply to organise your audition time and for any further information.
Synopsis:
It's 1942, and two of Hollywood's biggest divas have descended upon the luxurious Palm Beach Royale Hotel—assistants, luggage, and legendary feud with one another in tow. Everything seems to be in order for their wartime performance… that is, until they are somehow assigned to the same suite. Mistaken identities, overblown egos, double entendres, and a lap dog named Mr. Boodles round out this hilarious riot of a love note to the classic farces of the 30s and 40s.
Rehearsal Period:
Rehearsals will be three times a week, Tuesday and Thursday at 7pm & Sundays at Director's Discretion.
Performances Dates:
28 – 31 March & 4 – 6 April 2019
Thursday, Friday and Saturday Performances at 8pm
Sunday Matinee at 2pm
Successful cast MUST BE available for rehearsal period as well as all production dates. Please check you are available for all performance dates before booking your audition time.
ETC is a community theatre company and, as such, no actors are paid.