Wanting to audition for a show at ETC? Auditions are open to everyone who is suitable for the designated roles. There is no fee to audition, but successful members who are cast in ETC productions must agree to pay the $20 annual membership fee which covers administration and insurance costs. This is payable within one month of rehearsals.
To find out specific requirements about what is expected in the audition check out the notices below, or contact the associated director.  If you would like to be placed on our email distribution list for upcoming auditions, please email us at essendontheatrecompany@gmail.com  ETC always welcome new faces and talent and look forward to seeing you at an upcoming audition!
2018 SEASON
PRODUCTION 2

Child's Play: A series of One Act Plays

ETC is proud to present a series of one act plays for its second season.  Please contact individual directors for more details.  Auditions for all three plays will be held on the same dates.  Auditionees must be available to attend the play season as well as a number of One Act Play festivals in July (to be advised).
Auditions are by APPOINTMENT ONLY. Please apply to organise your audition time and for any further information.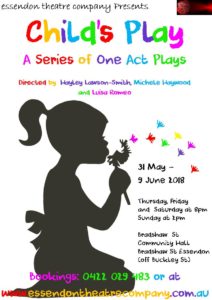 AUDITIONS
Tuesday 20 March 2018 at 7.30pm
Tuesday 27 March 2018 at 7.30pm
Bookings essential for audition time via individual directors.  Please see below for more information.
Play 1: A Thousand Words By Hayley Lawson-Smith 
 Directed by Hayley Lawson-Smith 
  Characters summary:   1 female, 1 male 
Characters: 
Female: 'Mummy' 20s to 40s 
Male: 'Daddy' 20s to 40s 
Contact: 
All enquires to Director Hayley Lawson-Smith  at email dramaticpause.itc@gmail.com or phone 0435 364 065 and leave a message which will be returned ASAP.  
 Synopsis: 
Mummy and Daddy are featured items on the refrigerator, and proud of it. But behind the happy facade, real life must be acknowledged. 
Play 2 Youth Play: Warriors By Hayley Lawson-Smith 
 This is a Youth Production and we encourage young people to apply!
Directed by Michele Haywood
 Characters summary:  4 females, 1 male.
Characters: 
Belinda, 16 – 18 years: She is Amy's big sister.  Always caring, always there for her little sister, whose sickness has made Belinda stronger than her years.  Belinda boards at one of the better high schools in the city.
Amy, 13 – 14 years: She is sick in a hospital bed.  Whiles she is unwell, the main reason she has to stay at the hospital is because her family lives too far away from the city to bring her to her appointments, whare are often.  She spends all her time writing.
Zordana, 16-18 Years.  A warrior queen, she is the heroine of Amy's made up land.  She is brave, noble and has vowed to conquer the evil spreading through her homeland.
Peter, 15 – 17 years.  A very fit young man with a passion for cricket and swimming.  Although he would be reluctant to admit it, he cares about his family deeply, particularly his little sister of whom he's very protective.
Maddie, 12-14 years.  Peter's little sister.  She is very bright, but quite different from her peers.  If she were an older person, we might call her eccentric.  It is her willingness to believe in magic that makes a happy ending possible.
Contact: 
All enquires to Director Michele Haywood at email michwood@bigpond.com or phone 0413 692 283.
 Synopsis: 
Not every hero gets a song or the cheers of the crowd—or even acknowledgement. In Zordana's land, a hero fights bravely in the open field, destroying monsters and dark magic. In Amy's world, her hero is the sister who takes care of her. For Maddie, her hero is her brother, who may tease her mercilessly but loves her dearly. As tragedy threatens to consume their separate worlds, only in coming together can they battle back the dark.  
REHEARSAL PERIOD
Rehearsals will be three times a week, Tuesday and Thursday at 7:30PM & Sundays at director's discretion.
SEASON
31 May – 3 June 2018 & 7 – 9 June 2018
Thursday, Friday and Saturday Performances at 8pm
Sunday Matinee at 2pm
Please bring along completed audition form below to your audition, along with a non-returnable photo or headshot.